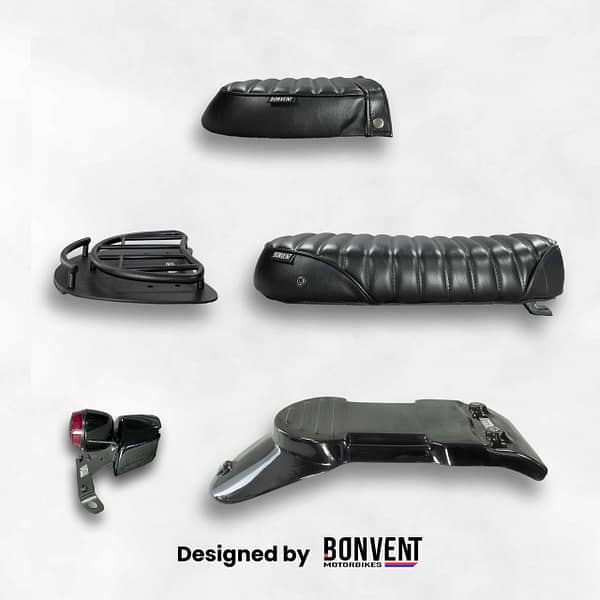 Modular seat kit – lugguage rack mono seat/duo seat – for Royal Enfield 650 series
Modular seat kit – lugguage rack mono seat/duo seat – for Royal Enfield Interceptor 650 & Continental gt 650 ( ALL YEARS)
Modular seat kit - lugguage rack mono seat/duo seat - for Royal Enfield Interceptor 650 & Continental gt 650 ( ALL YEARS)
The "Bonvent Modular Seat Kit" is the perfect custom accessory for those seeking both style and practicality. This unique kit includes a mono seat, an extension seat, a luggage rack with CNC mountings, a short rear mudguard, and a mini tail LED light, number plate holder, and turn signals mounts.
The kit is specifically designed by French designers from "Bonvent Motorbikes" to fit the Interceptor and the Continental GT 650, making it the perfect addition for these models.
Whether you're looking for a solo adventure or a duo ride, the "Bonvent Modular Seat Kit" has got you covered. You can easily transform your mono seat into a dual seat by adding the extension seat, giving you and your passenger a comfortable ride.
Additionally, the luggage rack is perfect for those weekend trips with friends, while the mini tail LED light and number plate holder with turn signal mounts add a stylish touch to your ride.
Overall, the "Bonvent Modular Seat Kit" is a practical and unique accessory that adds both style and functionality to your Royal Enfield. So, if you're looking for a modular seat, custom seat, luggage rack, scrambler, or adventure kit, this product is definitely worth checking out.
All our parts are delivered with all the screws/fixations & manual.
Home installation time with standard tools: 1 to 4 hours
Compatible with all Interceptor 650 models & continental GT 650
-WORLDWIDE SHIPPING
-DELIVERY TIME:  FRANCE 48 HOURS / INTERNATIONAL 3 TO 8 DAYS
Modular seat kit - lugguage rack mono seat/duo seat - for Royal Enfield 650 series
Additional information
| | |
| --- | --- |
| Weight | 6.5 kg |
| Dimensions | 50 × 35 × 35 cm |
| Color | BLACK, BROWN, BLACK COLOR (STOCK REAR LIGHT), BROWN COLOR (STOCK REAR LIGHT) |
OPTION 1 (For the best look): Modular seat kit + mini led light + number plate holder + turn signal mounts + luggage rack + rear mudguard
OPTION 2 (if you want to keep the stock rear light system): Modular seat kit + luggage rack + rear mudguard
DOWNLOAD INSTALLATION MANUAL