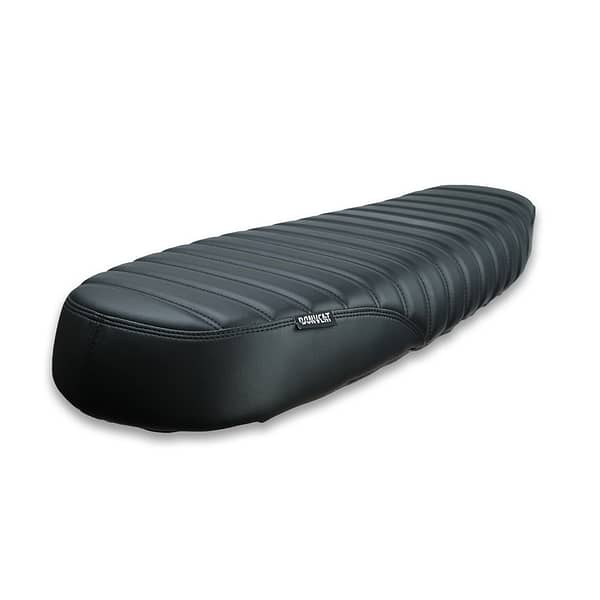 Seat scrambler classic black for Royal Enfield Interceptor 650 & Continental GT 650 ( All years) Plug&Play
"Bonvent" Scrambler classic seat for Royal Enfield Interceptor 650 & Continental GT (All years)
It uses the same mounts than the stock seat
More comfortable than the stock seat
Scrambler style
PLUG AND PLAY
Specially Designed for Royal Enfield Interceptor 650 & Continental GT 650 (All years)
"Bonvent" Scrambler classic seat for Royal Enfield Interceptor 650 & Continental GT (All years)
Introducing the "Bonvent" Scrambler classic Seat for Royal Enfield Interceptor 650 & Continental GT, the perfect upgrade for riders who want to enhance their bike's comfort and style. Handmade by skilled craftsmen, this seat is meticulously crafted to ensure the highest quality and attention to detail.
With its Scrambler style, the "Bonvent" seat will give your Royal Enfield Interceptor 650 or Continental GT a classic, vintage look. It's not just about aesthetics, though - the "Bonvent" seat is designed to provide superior comfort compared to the stock seat. Say goodbye to discomfort during long rides and hello to a more enjoyable riding experience.
At Bonvent, we understand that every rider has unique preferences. That's why we offer a wide range of customization options for our "Bonvent" seat. You can choose from different materials, colors, patterns, and styles of seams to create a seat that perfectly matches your personal style and taste.
The seat is waterproof because the seat covering is isolated from the foam by a layer of plastic, eliminating any risk of water soaking the foam. We also have specially designed a waterproof seat cover (available in option) for outdoor motorcycle storage, ensuring long-lasting preservation of the seat. We highly recommend the use of this cover for all our models made with leather or suede.
We strive to provide the best possible service to our customers. If you're interested in a custom "Bonvent" Scrambler Seat, please don't hesitate to contact us directly. We'll be happy to work with you to create the seat of your dreams.
Please note that the process of creating a custom seat can take up to 2 weeks, depending on the complexity of the design. However, we'll do our best to keep you informed throughout the process and provide an accurate timeline for delivery.
We understand that your bike is an important part of your life, which is why we take great care to ensure that every "Bonvent" seat meets our high standards of quality and craftsmanship.
CONTACT US HERE today to learn more about our custom seat options and let us help you create the perfect seat for your Royal Enfield Interceptor 650 or Continental GT 650.
Installation is a breeze thanks to the "Bonvent" seat's Plug & Play design. The seat uses the same mounts as the stock one, so you can install it quickly and easily without any modifications.
Made with high-quality foam and coating, the "Bonvent" seat is also waterproof, ensuring that it will last for years to come. Its length of 64.5 cm ensures that it's the perfect fit for your Royal Enfield Interceptor 650 or Continental GT 650.
Upgrade your Royal Enfield Interceptor 650 or Continental GT 650 with the "Bonvent" Scrambler Seat today, and experience the perfect combination of comfort, style, and quality craftsmanship.
All our parts are delivered with all the screws/fixations & manual.
Material: Base in Fibre reinforced plastic, High quality foam, artificial leather (real leather on demand please contact us)
Compatible with all Royal Enfield Interceptor 650 models & continental GT 650
-WORLDWIDE SHIPPING
-DELIVERY TIME: FRANCE 48 HOURS / WORLD 3 TO 10 DAYS